IO4-Turtle
IO4 Tortoise driver with occupancy and point position feedback
IO4-Turtle-Graphic

Molex-on-Tortoise-1

Molex-on-Tortoise-2

Molex-on-Tortoise-3
Download
IO4-Turtle_array.scr
- Eagle SCRipt
Download
Untitled 2
-
Download
lm1117-Datasheet.pdf
- Documentation
IO4-Turtle Version 4.7
First built: 2018-03
Carrier board, DFM, feedback LEDS that don't pass tortoise current and IO4 Tortoise driver with occupancy and point position feedback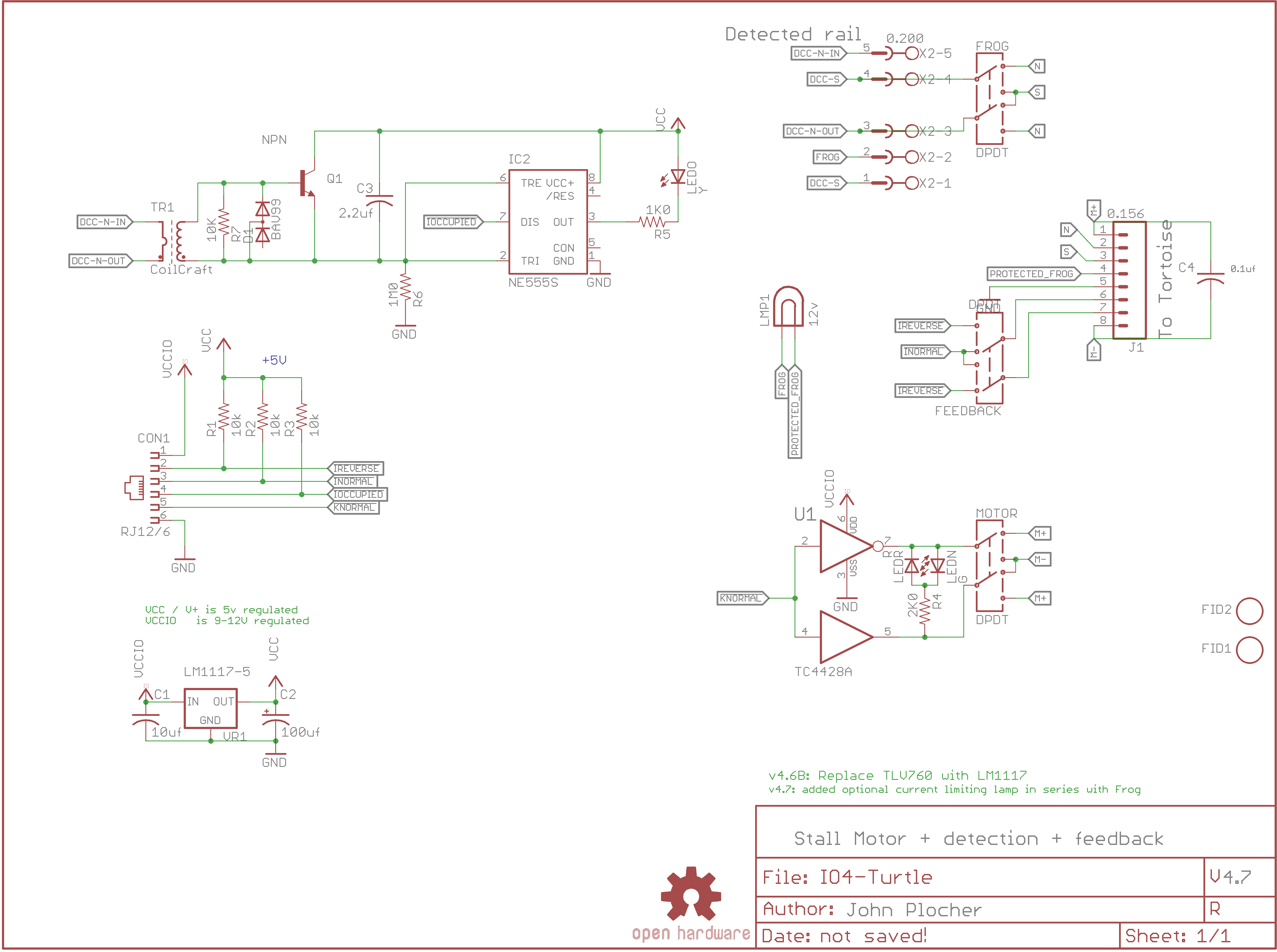 | | | |
| --- | --- | --- |
| Bot Silk | Board | Top Silk |
| Bot Silk | Board | Top Silk |
Download IO4-Turtle.gerbers.zip - Gerber Fabrication files
Download IO4-Turtle.parts - Parts List (spreadsheet data)
Download IO4-Turtle_array.gerbers.zip - Gerber Fabrication files
Download IO4-Turtle_array.parts - Parts List (spreadsheet data)

IO4-Turtle.bom
| Parts | Value | Package | Quantity | Library | Type/Feeder |
| --- | --- | --- | --- | --- | --- |
| C4 | 0.1uf | 0603-CAP | 1x | SPCoast | 19 |
| J1 | 0.156 | KK-156-8-F | 1x | SPCoast | PTH |
| X2 | 0.200 | MSTBA5 | 1x | SPCoast | PTH |
| R5 | 1K0 | 0603-RES | 1x | SPCoast | 41 |
| R6 | 1M0 | 0603-RES | 1x | SPCoast | 49 |
| C3 | 2.2uf | 0603-CAP | 1x | SPCoast | NONE |
| R4 | 2K0 | 0603-RES | 1x | SPCoast | 42 |
| R1, R2, R3, R7 | 10K | 0603-RES | 4x | SPCoast | 46 |
| C1 | 10uf | 0603-CAP | 1x | SPCoast | 22 |
| LMP1 | 12v | BULB-3156 | 1x | SPCoast | PTH |
| C2 | 100uf | PANASONIC_D | 1x | SPCoast | NONE |
| D1 | BAV99 | SOT23 | 1x | SPCoast | 12 |
| TR1 | CoilCraft | TH-T4 | 1x | SPCoast | PTH |
| FEEDBACK, FROG, MOTOR | DPDT | 8X8-SQ-PB | 3x | SPCoast | PTH |
| FID1, FID2 | FIDUCIAL | FIDUCIAL_1MM | 2x | SPCoast | NONE |
| LEDN | G | 0603-LED | 1x | SPCoast | 3 |
| VR1 | LM1117-5 | SOT223 | 1x | SPCoast | 28 |
| IC2 | NE555S | SO-08 | 1x | SPCoast | NONE |
| Q1 | NPN | SOT23 | 1x | SPCoast | 14 |
| OSHW1 | OSHW | OSHW-LOGO-M | 1x | SPCoast | PTH |
| LEDR | R | 0603-LED | 1x | SPCoast | 1 |
| CON1 | RJ12/6 | RJ25-INVERTED | 1x | SPCoast | PTH |
| IC1 | TC4428A | SO-08 | 1x | SPCoast | NONE |
| LEDO | Y | 0603-LED | 1x | SPCoast | 2 |
IO4-Turtle_array.bom
| Parts | Value | Package | Quantity | Library | Type/Feeder |
| --- | --- | --- | --- | --- | --- |
| C4X11, C4X21 | 0.1uf | 0603-RES | 2x | SPCoast | NONE |
| J1X11, J1X21 | 0.156 | KK-156-8-F | 2x | SPCoast | PTH |
| X2X11, X2X21 | 0.200 | MSTBA5 | 2x | SPCoast | PTH |
| R5X11, R5X21 | 1K0 | 0603-RES | 2x | SPCoast | 41 |
| R6X11, R6X21 | 1M0 | 0603-RES | 2x | SPCoast | 49 |
| C3X11, C3X21 | 2.2uf | 0603-CAP | 2x | SPCoast | NONE |
| R4X11, R4X21 | 2K0 | 0603-RES | 2x | SPCoast | 42 |
| R1X11, R1X21, R2X11, R2X21, R3X11, R3X21, R7X11, R7X21 | 10K | 0603-RES | 8x | SPCoast | 46 |
| C1X11, C1X21 | 10uf | 0603-CAP | 2x | SPCoast | 22 |
| LMP1X11, LMP1X21 | 12v | BULB-3156 | 2x | SPCoast | PTH |
| C2X11, C2X21 | 100uf | PANASONIC_D | 2x | SPCoast | NONE |
| D1X11, D1X21 | BAV99 | SOT23 | 2x | SPCoast | 12 |
| X2X1 | BOARD | BOARD-DINRAIL-2.7IN-5CM-DUAL | 1x | SPCoast | PTH |
| TR1X11, TR1X21 | CoilCraft | TH-T4 | 2x | SPCoast | PTH |
| FEEDBACKX11, FEEDBACKX21, FROGX11, FROGX21, MOTORX11, MOTORX21 | DPDT | 8X8-SQ-PB | 6x | SPCoast | PTH |
| FID1X11, FID1X21, FID2X11, FID2X21 | FIDUCIAL | FIDUCIAL_1MM | 4x | SPCoast | NONE |
| LEDNX11, LEDNX21 | G | 0603-LED | 2x | SPCoast | 3 |
| VR1X11, VR1X21 | LM1117-5 | SOT223 | 2x | SPCoast | 28 |
| IC2X11, IC2X21 | NE555S | SO08 | 2x | SPCoast | NONE |
| Q1X11, Q1X21 | NPN | SOT23 | 2x | SPCoast | 14 |
| OSHW1X11, OSHW1X21 | OSHW | OSHW-LOGO-M | 2x | SPCoast | PTH |
| LEDRX11, LEDRX21 | R | 0603-LED | 2x | SPCoast | 1 |
| CON1X11, CON1X21 | RJ12/6 | RJ25-INVERTED | 2x | SPCoast | PTH |
| IC1X11, IC1X21 | TC4428A | SO-08 | 2x | SPCoast | NONE |
| LEDOX11, LEDOX21 | Y | 0603-LED | 2x | SPCoast | 2 |
IO4-Turtle Version 4.6B
First built: 2018-03
Carrier board, DFM, feedback LEDS that don't pass tortoise current and IO4 Tortoise driver with occupancy and point position feedback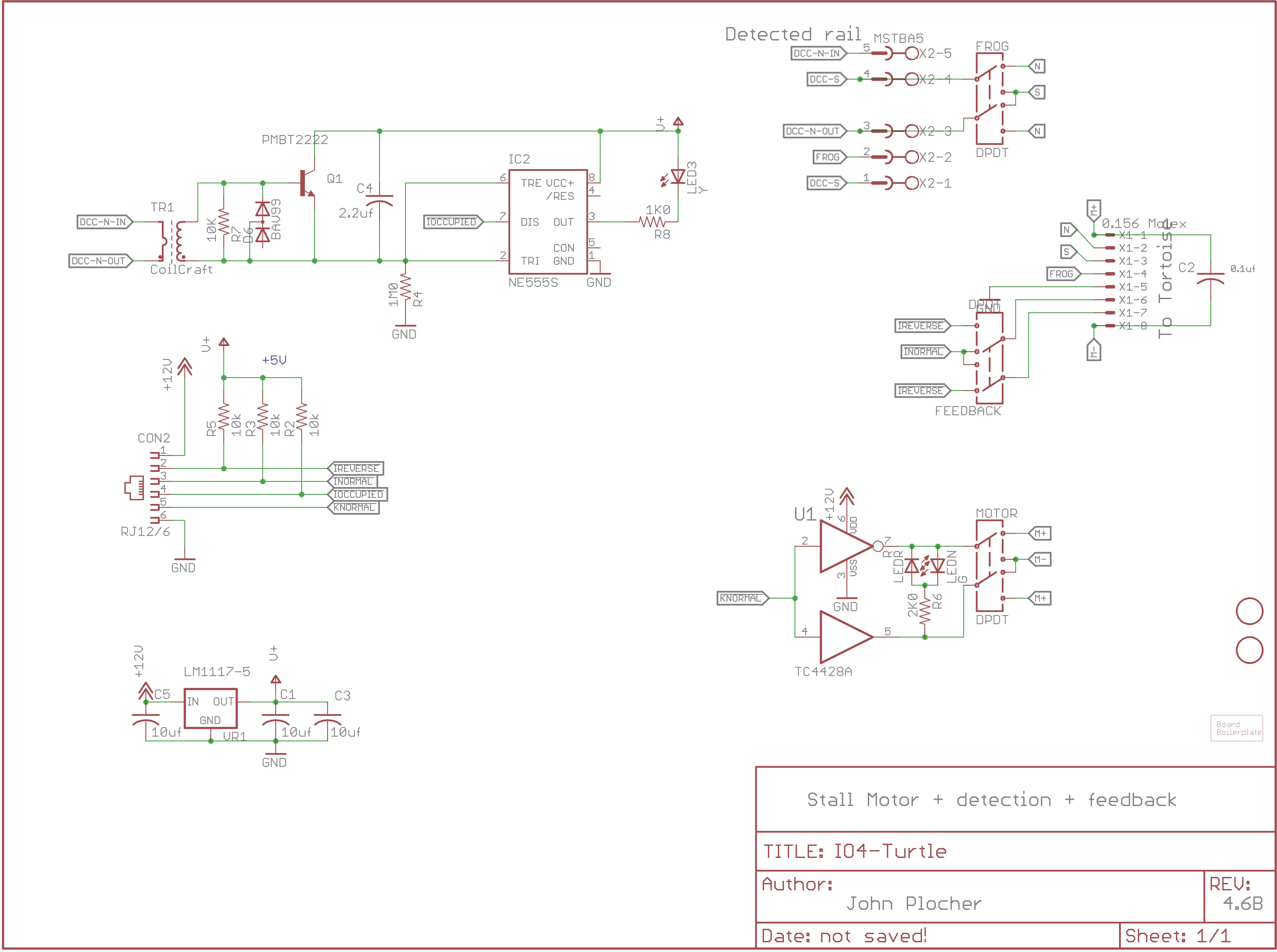 Download IO4-Turtle - CHMT Component and feeder definitions
Download IO4-Turtle.gerbers.zip - Gerber Fabrication files
Download IO4-Turtle.parts - Parts List (spreadsheet data)

IO4-Turtle.bom
| Parts | Value | Package | Quantity | Library | Type/Feeder |
| --- | --- | --- | --- | --- | --- |
| C2 | 0.1uf | 0805-CAP | 1x | SPCoast | NONE |
| X1 | 0.156 Molex | KK-156-8-F | 1x | SPCoast | PTH |
| R8 | 1K0 | 0805-RES | 1x | SPCoast | 6 |
| R4 | 1M0 | 0805-RES | 1x | SPCoast | NONE |
| C4 | 2.2uf | 0805-CAP | 1x | SPCoast | 57 |
| R6 | 2K0 | 0805-RES | 1x | SPCoast | 7 |
| R2, R3, R5, R7 | 10K | 0805-RES | 4x | SPCoast | 11 |
| C1, C3, C5 | 10uf | 0805-CAP | 3x | SPCoast | 53 |
| D6 | BAV99 | SOT23 | 1x | SPCoast | 47 |
| BOARD | BOARD70X50-HOHOLES | BOARD-7X5-TEMPLATE | 1x | SPCoast | PTH |
| TR1 | CoilCraft | TH-T4 | 1x | SPCoast | PTH |
| FEEDBACK, FROG, MOTOR | DPDT | 8X8-SQ-PB | 3x | SPCoast | PTH |
| FID1, FID2 | FIDUCIAL | FIDUCIAL_1MM | 2x | SPCoast | NONE |
| LEDN | G | 0603-LED | 1x | SPCoast | 18 |
| VR1 | LM1117-5 | SOT223 | 1x | SPCoast | 24 |
| X2 | MSTBA5 | MSTBA5 | 1x | SPCoast | PTH |
| IC2 | NE555S | SO08 | 1x | SPCoast | 72 |
| Q1 | PMBT2222 | SOT23 | 1x | SPCoast | 40 |
| LEDR | R | 0603-LED | 1x | SPCoast | 17 |
| CON2 | RJ12/6 | RJ25-INVERTED | 1x | SPCoast | PTH |
| IC1 | TC4428A | SO-08 | 1x | tc442xa | 91 |
| LED3 | Y | 0603-LED | 1x | SPCoast | 20 |
Documentation
This is an adaptation of my older PIC-based ExpressPCB Turtle project, which is why the version numbers start at 4…. It has evolved quite a bit, in form factor and functionality as it has been used on my layout.
This board mounts on a Tortoise via a sweat-soldered right angle Molex M-M connector, plugs into an IOB-Turtle or other IO4 compatible port.
The Tortoise provides:
OS section occupancy (so you don't throw a turnout out from under a train…),
Turnout point position feedback (Normal, in transit, Diverging)
easy frog polarity changes for dealing with wiring mishaps
easy Normal/Reverse changes for when the Normal route thru a turnout needs to go the other way.
Tortoise motor debouncing when it reaches the end of travel
feedback LEDs to show Occupancy (yellow) and commanded position (red/green)
It uses my standard IO4 RJ12/6 wiring interface:
pin 1: 9-12vDC
pin 2: !DIVERGING - Turnout Position Feedback - low = Diverging, high = not diverging
pin 3: !NORMAL - Turnout Position Feedback - low = Normal, high = not normal
pin 4: !OCCUPIED - Detector Feedback - low = occupied, high = empty
pin 5: !MOTOR - Motor Control Input - Low = Normal, High = Diverging
pin 6: GND
It also connects to the local DCC track power feed and to the turnout's isolated-for-detection-purposes stock and frog rails.
This technical documentation is licensed under the CERN Open Hardware Licence v1.2